Bugg Creative and ESP Merchandise Collaboration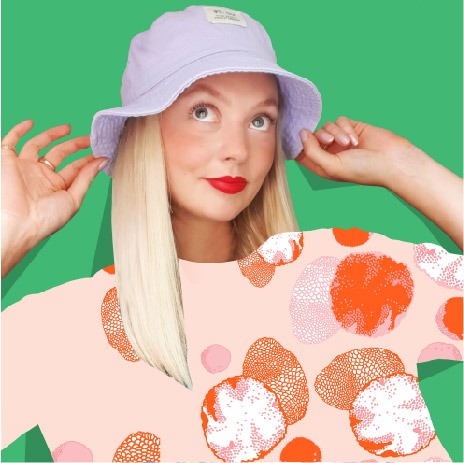 We have the pleasure of printing some seriously striking t-shirts for the wonderful Tiffany Chase of Bugg creative. Tiffany's journey from textile design through surface design and print has brought her here. Creating some unique designs from patterns found in nature.
Tiffany Chase Interview
Name
Tiffany Chase
Hometown
Oswestry, Shropshire
How did you get into art?
I've been carrying  pens, pencils & paper around with me since I was pretty tiny so I've always had a true love for creativity. I used to draw imaginary girl bands and design all their outfits as well as making illustrated and collaged memory scrap books up until I was about 17. In the final year of secondary school I realised art was more than a hobby and actually something I really wanted to learn more about to explore further which lead onto a BTEC National diploma in art & design at college followed by a Textile Design BA degree at Norwich University of the Arts (when I moved to Norwich in 2009) specialising in surface design and screen printing.
Talk us through how you developed your unique style.
Colour and pattern have always been two elements which excite me the most visually so throughout my creative practice I've worked on these in particular, developing a personal style and love for hand drawing from nature and natural objects such as shells, fossils and taxidermy insects. After the initial sketch or ink drawing in my book I like to develop through paper collage and digital manipulation- playing around with different colour combinations, scale and composition.
How has lockdown affected your work?
Lockdown for me (like many) forced some time out from the every day stuff enabling me to pause and really fall back in love with my sketch book. It reminded me how much I love to draw and design and how important it is to never squash your creativity- it needs to be nurtured!
Have you got a favourite piece from this period?
I never really have a favourite piece for longer than a few days or weeks until I have a new idea- then that's the next best thing for me! But I do really love my fossil series and I find it super exciting to finally see my designs in print and on physical products.
Are there any other artists are you feeling at the moment?
I've always been a huge fan of Hattie Stewart's illustrations- her work is super vibrant and full of energy!
So Bugg, we screen printed your most recent t-shirt here at ESP. Can you talk me through the design? 
I wanted to create something which captured this period of my work- combining the hand-drawn natural objects with bold colour and digital manipulation. The design is made up from several separate fossil and shell studies, combined to create intricate patterns with the contrasting pops of colour. I chose a pale pink organic tshirt as I thought It was just perfect for the design and colours and wanted to offer something which felt super soft and high quality!
Thanks so much for the opportunity ESP- you guys are the best! 
What's a favourite hidden gem of yours in Norwich (Not necessarily art related)?
My favourite hidden gem in Norwich is The Orient Express market stall- I'm a spicy noodle fiend and they never fail to supply the good stuff (and run by the most wonderful people!) it's like an Aladdin's cave. Another favourite is Wensum Park- I love being by the water and it's always full of cute swan families.
What charity have you chosen to donate to and why?
Macmillian cancer support as they were absolutely incredible with a number of my family who've been helped by them.
Thanks so much for taking the time to chat to us Tif. We are very excited to see how this t-shirt turns out and looking forward to catching some of your other pieces too!